Luis Enrique: MSN The Best Attacking Trio In The World
Barcelona manager Luis Enrique believes that his attacking trio of Lionel Messi, Luis Suarez, and Neymar are the best trio in the world.
After a great performance by Lionel Messi, Luis Suarez, and Neymar, Barcelona remain in the La Liga title race. They will still need help from other teams to get results against Real Madrid. However, they can only control how they're doing and they did well on Saturday. Barca defeated Villarreal 4-1 at Camp Nou by using their MSN trident to do masterful work for 90 minutes. Messi scored twice and El Pistolero got a goal as well.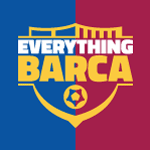 Want your voice heard? Join the Everything Barca team!
Write for us!
Despite those performances, Neymar stood out to everyone. He dribbled through the defense like they were traffic cones putting on a dazzling performance. He was easily the man of the match for his effort. In addition, he scored and deserved to score a goal. Luis Enrique had a few thoughts on the MSN trident and where they stand among the worlds best.
"Years ago there was just one crack in a team [in attack] and all we heard was that there was only room for one per side. Then Neymar came and there were doubts, people said there would be tension, that you could bot have two cracks in the same team… and now look: there are three cracks. Let's enjoy them. They might just be the best forward line in the world."
Lucho went on to talk about how well Neymar played on Saturday. He hasn't been at his best when it comes to the numbers. However, he looks like he has gained an extra step on the competition. Here is more of what Luis Enrique had to say about the Brazilian winger.
"Neymar interprets football completely differently to other players, even to other Brazilians. I barely have enough time to even see the majority of his dribbles. It's a huge pleasure to watch him. Any football fan has to appreciate what Neymar does, which sometimes seems more like ballet than dribbling. It's beautiful, it's effective and it's spectacular. Time will tell if he can mark an era."

Lucho On Neymar
Overall, it was a great performance from the entire team just when they needed it the most. It took some time, but Barca imposed their will starting with the MSN trio. A lot of others produced great things, but this was completely started by the MSN trident. We will see if they can steal the title from their rivals in a few weeks.